Activities at Scenic Drive Resort
SUMMER
The Fishing is Great! Lake Delta has a large population of northern pike, bass, bluegill and crappie - and they're just waiting to be caught. If you prefer trout fishing, come fish the famous White River and its' many tributary streams nearby or fish the Rainbow Lake Wilderness Area, just a short drive away. Whichever you choose, you will be assured of some mighty fine fishing. Each cabin's rate includes the use of an aluminum boat. After you've caught your fish, they can be cleaned in our screened fish house. Free freezer service will preserve your catch until you leave.
Sit on the pier and get a little sun, and if you get thirsty, the bar is a few feet away - serving cocktails, beer, wine or soft drinks, pizza and snacks.
For the kids we have a playground, swimming beach, paddleboats, video games and horseshoes. Nearby attractions include horseback riding, Bayfield, the Apostle Islands, Madeline Island, Cable and Hayward recreational areas and within one half hour the cities of Duluth/Superior.
FALL
Fall doesn't get any better than right here. September and October are beautiful months. The peak of autumn color happens typically in the last week of September and the first week of October.
Fall colors lake picture.
Hunting opportunities are plentiful for bow hunting, large game and a variety of small game. This is our favorite time of year.
WINTER
Winter provides a multitude of ice fishing opportunities on inland lakes and the Big Lake - Superior. We also have easy access to hundreds of miles of groomed snowmobile trails - The Best in the State. Cross-country ski trails are nearby in Drummond and downhill skiing is available in Cable.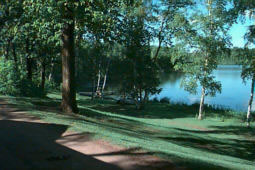 SPRING
Early spring offers rivers of slush roads as the snow melts away into spring. But just around the corner you find the forests reawakening to the rhythms of spring. The birds return from the south and all wildlife emerges from their slumber.